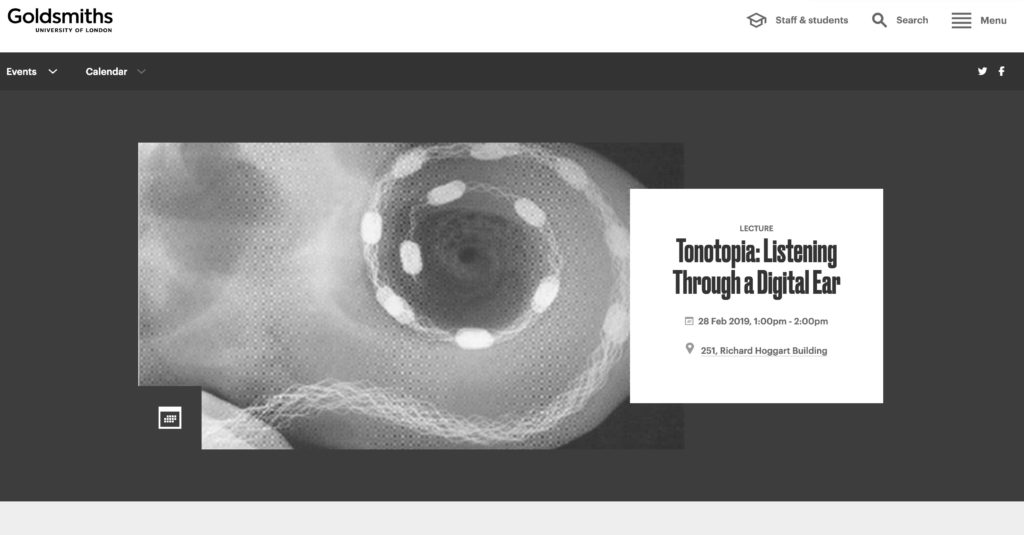 Join Dr Tom Tlalim for this free lunchtime lecture about his sound art project Tonotopia.
Sensory experience is an increasingly contested space. New hybrid technologies offer new physical abilities and new sensory outreach, while our bodies and our senses become sites for surveillance.
As health services, biomedical industries, scientific research bodies and tech companies compete for access to the new goldmine of the body, new legal and ethical questions are emerging on what constitutes subjectivity, agency, and intelligence within the hybrid continuum of the human-non-human apparatus.
Artist and composer Tom Tlalim will present his sound art project, 'Tonotopia', where he recently collaborated with users of Cochlear Implants (CI), exploring their hearing / listening journeys with their digital ears. He will discuss examples from two curated shows at the Victoria and Albert museum – 'Tonotopia: Listening Through Cochlear Implants' and 'The Future Starts Here' – where composing and curating sound art for a spectrum of hearing abilities became a central theme.
Cochlear implants (CIs) are the first direct sensory prosthetics. They enable people with profound deafness to perceive sound digitally, by wholly bypassing the ear, and emitting signals directly to the hearing nerve. Designed to convey speech and language, music, harmony and complex sounds can sound harsh or even unpleasant with CI, which makes composing music and sound art for these cyborg ears a unique collaborative process.
Tom Tlalim is an artist, musician and writer whose work explores the relation between sound, technology, ideology subjectivity. His art practice explores sonic artefacts, voices and spaces as ideological devices. His PhD research at Goldsmiths, titled "The Sound System of the State", was funded by the Mondrian Foundation for the Arts. He holds MAs in Composition and Sonology, and currently works as a Senior Lecturer at the University of Winchester. His work received numerous grants and awards and is exhibited internationally. Recent exhibitions include 'Tonotopia' and 'The Future Starts Here' at the V&A in London, 'Forensic Architecture' at The Venice Architecture Biennale (with Susan Schuppli), "Art in the age of Asymmetrical Warfare" at Witte de With, Rotterdam, "Hlysnan" at Casino Luxemburg, the Marrakech Biennale, and Stroom The Hague. His film Field Notes for a Mine was nominated for the Tiger award at the International Film Festival Rotterdam. His regular collaborations with the choreographer Arkadi Zaides are performed widely to a critical acclaim.
Dates & times
Date: Thursday, 28 Feb 2019, 1:00pm – 2:00pm

Location: Richard Hoggart Building 251
Free entrance
Department: Music, Unit for Sound Practice Research
Contact:i.burman(@gold.ac.uk)
020 7919 7645